Why the Cyber Protection Platform (CPP)?
Because all it takes is one employee to cause a data breach.
Cybercriminals are diligent in finding new, sophisticated methods to trick unsuspecting employees into putting themselves at risk. Having a proactive approach is key in a robust security culture and our Employee Vulnerability Assessment is just the tool you need to watch your team transition from a weak link into your strongest defense against cyber attacks.
EVA: The Heart of the CPP
EVA combines proven security metrics with quantitative analysis and friendly competition.
You can watch as your team transitions into your strongest defense against cyber attacks!
Push the play button below to watch this short and informative video.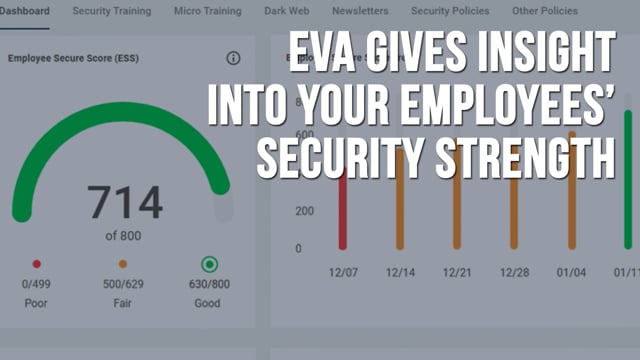 EVA provides unparalleled insight into your organization's first layer of defense, your employees, by combining key security metrics with friendly competition.
Employee Secure Score (ESS)
Which employee is the weakest link?
The ESS uses a sophisticated algorithm of metrics to transform end-user education into an analytical engine. By assigning an ESS to each user, employees can see where they fall in their peer group and in what areas they can improve.
How will you reduce their risk level?
By averaging all end-users' ESS, each organization is assigned a Company Overall ESS. Leveraging this score gives management insight into their overall security hygiene and highlights the need for technical safeguards.
Employee Education, Evolved
Training, Phishing, Dark Web, Security Policies, & an Interactive Portal - we cover it all.
Proactively monitor the dark web for compromised account data. The sooner end-users are notified of a breach, the sooner they can change their passwords. End-users also have the ability to scan the dark web for their personal, friends, and family accounts with no limit.
Written Security Policies
Security policies are key to establishing expectations and explaining repercussions to protect your client organizations. Our document management portal contains a variety of customizable security policies from BYOD to Security Incident Response.
Weekly micro-training video, quiz & monthly security newsletter
Weekly 2-minute micro-training video & short quiz combined with a monthly security newsletter keep cybersecurity short, engaging, and interactive. White-labeled emails sent on your behalf to all your users means hands-off management.
Unlimited, automated campaigns
Routine simulated phishing has been proven to minimize the risk of end-users falling victim to a malicious phishing attempt. Routine phishing instills into our users the very behaviors of IT professionals before they click on any link so that even on the most chaotic of days, they're ready.
For end-users, an interactive leaderboard ignites friendly competition with just their screen name's honor at stake. For managers, employee names are featured, with a report for performance evaluations, they can track just who needs more time bulking up!
Identify the security gaps
EVA identifies the human vulnerabilities and their related risks. Based on NIST standards, our Security Risk Assessment (SRA) assesses your client's administrative, physical, and technical vulnerabilities; identifies the associated risks, and provides recommendations for improvement.